Hours: Mon-Fri 8:30am-4:30pm
Sat 8:30am-12:30pm
CLOSED Sunday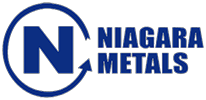 Welcome to 41 Hannah Street. Niagara metals newest location. Our fully paved scrap yard is located off New Babcock Street in buffalo Between William Street and Bailey Avenue. We are conveniently located just 10 minutes from down-town buffalo via William street and about 10 minutes from cheektowaga via union road. While we do accept Most of your household appliances, cars, and recyclable metals, we do not take compressed units, gas and propane tanks, or boats and campers. Our friendly scrap specialists are here from 8:30-4:30 monday- friday and 8:30-12:30 on Saturdays to assist you with your recycling experience.
Our Buffalo Hannah St. Scrap Yard is our Newest Location
Our experienced staff will make it quick and easy for you to weigh in, unload your material, and cash you out for your scrap. Our open layout makes it easy for vehicles to navigate the yard from the begining to the end of your metal recycling process. All you need is a valid License and we will pay you the best price around for your scrap. For scrapping old cars it is best to bring the title if you have it, But we can also provide you with the correct DMV forms to fill out if you do not have it. Lean release must be included if the title still has a lean attached. You can even join our loyalty program and earn Niagara Metals/ Buffalo Bills swag and gas gift cards. Whether it's your first time or you're a regular recycler here at niagara metals, we can guarantee that you will leave satisfied with the service provided during your visit.