Mon-Fri 8:00am-4:30pm
Sat 8:00am-12:00pm
CLOSED Sunday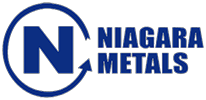 Welcome to our Hertel Avenue facility! This yard is located in the heart of North Buffalo at the intersection of Elmwood Ave and Hertel Ave. Please enter from the Hertel entrance and follow the long driveway which leads into the yard. Proceed right onto the main truck scale and the scalehouse will input your vehicle description & weight into our yard system. If you have any questions about the scrap process, one of our staff members would be happy to assist!
Our North Buffalo Scrap Yard is located at Elmwood and Hertel
For non-ferrous items, please head to the retail warehouse and load your material onto on of our facility carts. This includes copper, brass, small amounts of aluminum, batteries, stainless steel, & more. For ferrous drops, please proceed beyond the warehouses and to the outside piles in the back of the yard. From there, our yard inspector will be able to show you which piles to dump your material in. We also have a loose aluminum pile located near the office. For more than one commodity, we will have you scale in & out between each outside drop.
When you are finished recycling all of your scrap metal, please park and head to the office with your yard slip and/or warehouse slip & a valid ID. This will ensure that our scalehouse is paying the correct customer for the correct material. At Niagara Metals, you always can receive cash for your scrap metal.
Thank you for reading and we look forward to seeing you soon!