Hours: Mon-Fri 8:00am-4:30pm
Sat 8:00am-12:00pm
CLOSED Sunday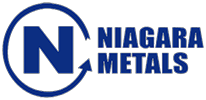 Welcome to our Royalton facility! Located right on the main Route 31 and only about 5-10 minutes from both Lockport and Medina, depending on which direction. Coming from Lockport, our facility will be on your left-hand side, right bast the Ridge Road Express bus station. Coming from Medina, the yard will be on your right-hand side just beyond the Schwab farm.
Every transaction at a Niagara Metals facility requires a valid ID.
Our Royalton Scrap Yard is about 5-10 minutes from both Lockport and Medina
If you are not familiar with our scrap process, feel free to park and come in the office to ask any questions. We will gladly give you the rundown and where to go and what to do! For any item you have, you would first go on our main truck scale. The office will input your vehicle weight and description into our ticketing system. When you hear the buzzer, you are free to proceed off the scale. For non-ferrous items, such as brass, copper, aluminum, batteries, stainless steel, insulated wire, etc. please head to the warehouse located on your left-side. Please load your material onto one of our carts & an employee would gladly answer any questions you might have. For ferrous material, such as shredding (appliances), rotors / auto cast, and cast iron please continue down the road toward the loose piles. Our yard inspector will show you which pile to dispose of your scrap metal in. If you have multiple drops of different material, we will have you scale out between each commodity.
If you are salvaging a car body, please have the vehicle title and a valid ID. If you do not have the title we have MV-35 forms onsite. It is required that the VIN is legible on the vehicle.
We always love hearing positive feedback from our customers. Our staff takes pride in keeping the facility clean and being helpful to customers. We are happy to support and serve our community!